Review of the latest Fenty Gloss Bomb Lip Luminizer shade in Fu$$y.
The Review:
Since the last two Fenty Beauty Gloss Bomb shades were such huge success (see here for my review on Fenty Glow and Diamond Milk), you can only expect the new shade Fu$$y to be met with much anticipation!
This is a shimmery dusty pink. Once again, it's a very flattering shade on a range of skintones, and definitely falls under the "my lips but better" category.
In the tube, it looks like it has silver and pink glitter chunks, but once applied it doesn't look glittery at all. It appeared to enhance my lips' natural colors with a dewy wet shine. Under direct sunlight, you can see some pretty pink glimmers.
It has medium level of pigmentation – it enhances the lip's natural color with a dusty pink layer, but doesn't completely coat them in an opaque color.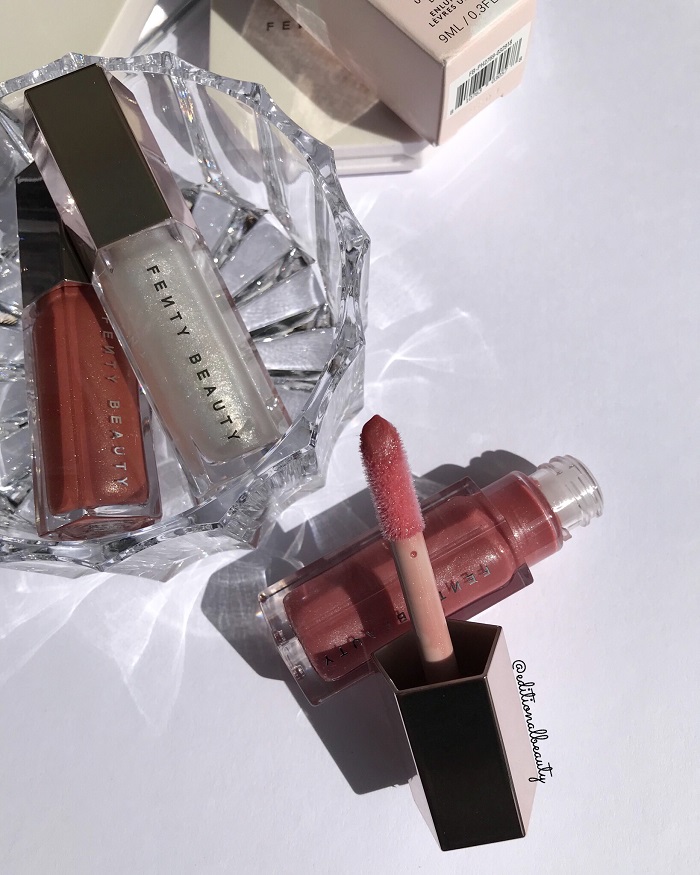 The packaging is exactly the same as the previous releases. It has the brand's signature hexagon packaging, complete with the rose gold cap. The wand is an oversized doe foot applicator.
The gloss has a peach vanilla scent, and glides on very smoothly.
The formula feels lightweight and is not sticky or heavy at all. In terms of lasting power, it's very similar to other lipglosses, so you would need to reapply every few hours.
The Shades:
Fu$$y is a shimmery dusty pink. It has a fairly neutral undertone.
In comparison, Fenty Glow is a muted rose with brown undertones, and Diamond Milk is a shimmery pearl.
The Swatches:
Here is the swatch of Fu$$y, together with Fenty Glow and Diamond Milk, so you can compare the 3 shades together: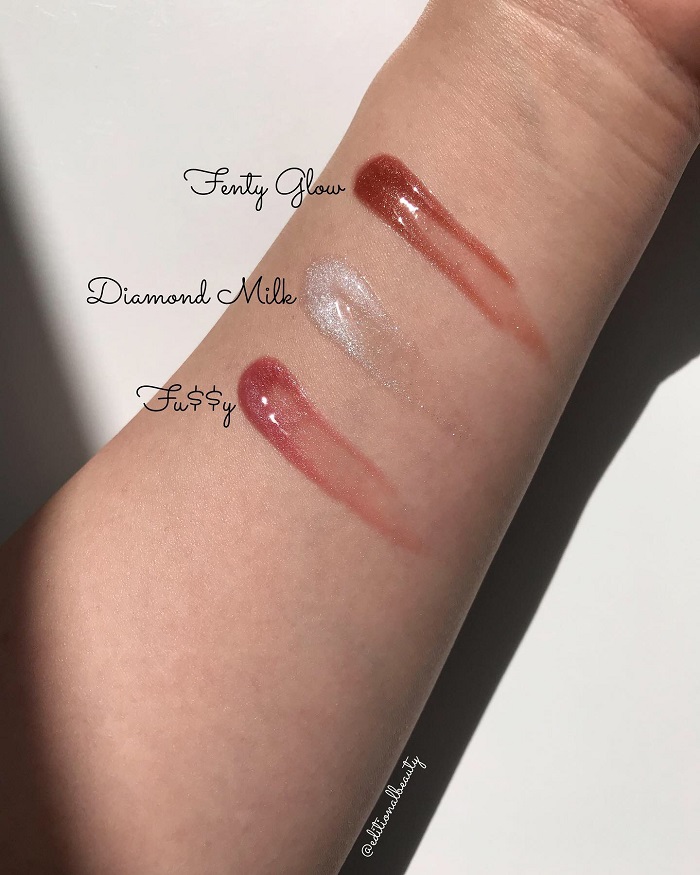 Shop The Post:
| Purchased |
Subscribe to the blog via email, unsubscribe anytime: