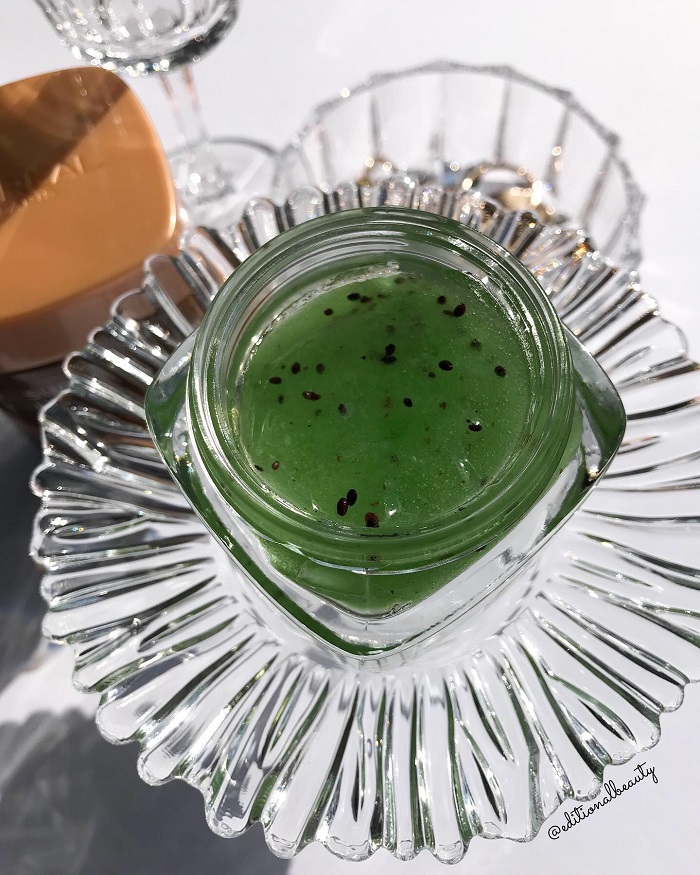 A gentle face and lip scrub from L'Oreal Paris.
The Review:
As soon as I opened the tub, I realised this scrub looks and smells like kiwi jam. The formula combines 3 fines sugars (brown, blonde and white), hence the sweet sugary scent. The sugars are then held together by glycerine, giving it the jelly like texture.
Sugar is a great natural exfoliator, especially in the physical exfoliator category.
Common physical exfoliator ingredients include ground coffee, nuts or stones. They would exfoliate as you manually massage them against the skin. While they are quite effective, a common complaint is that they are too abrasive, and easier to overdo than chemical exfoliators. I feel that sugar is the gentlest option amongst physical exfoliators. The granules are smaller and tend to melt away when met with water, so it's unlikely you'll massage them against the skin for too long. For this reason, this scrub is also suitable as a lip scrub. Most physical exfoliators shouldn't come near the delicate skin on your lips, but the L'Oreal Purifying Scrub feels great when used in this area.
After exfoliating my face and lips with this scrub, my skin looks and feels refreshed. Most importantly, it doesn't feel tight as this is such a gentle formula.
This Purifying Scrub is great to help prevent acne and blackheads. Most importantly, the formula is gentle enough for everyday use.
Shop The Post:
| Sample |
Subscribe to the blog via email, unsubscribe anytime: