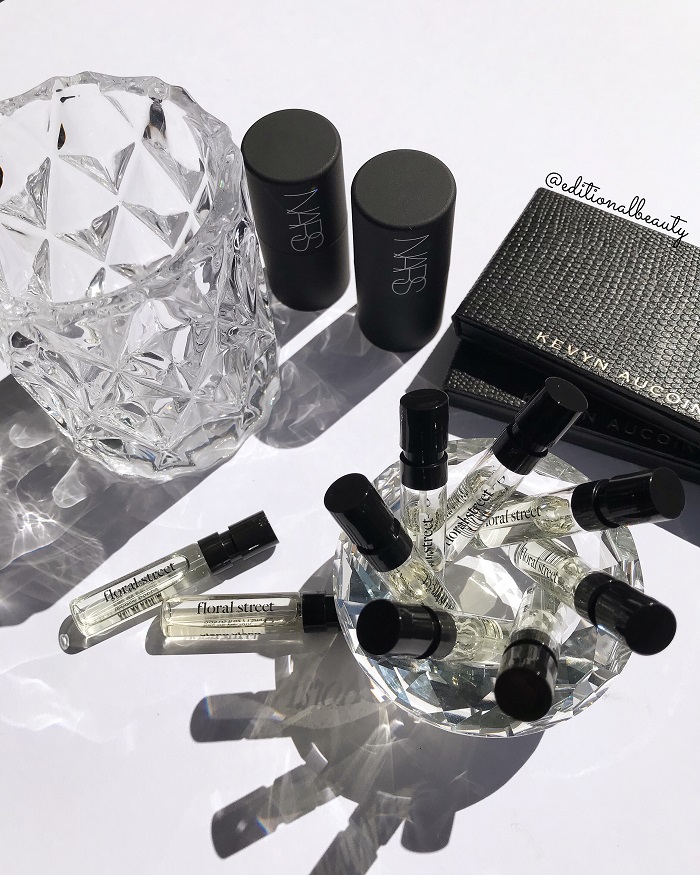 Sample eight fragrance creations from Floral Street, delivering modern floral scents with a twist.
The Review:
You would have guessed from the name – Floral Street specialise in floral fragrances. But don't expect tame wallflower type perfumes from the brand, their creations have distinct personalities.
The brand recently entered the Australian market, and I was very eager to sample their offerings. Luckily, they had a Discovery Set, which came with 8 sample vials of their fragrances – Wonderland Peony, Neon Rose,Wild Vanilla Orchid, Iris Goddess, Chypre Sublime, Black Lotus, Ylang Ylang Espresso, and London Poppy. This was the perfect way to wear and try different scents, without investing in a full sized bottle.
I find most of their perfumes fall under either the Woody type (Wonderland Peony, Wild Vanilla Orchid), or Musky (Iris Goddess, Chypre Sublime, Ylang Ylang Espresso, Black Lotus). London Poppy was a Citrus floral.The only straight-up floral from the set was Neon Rose.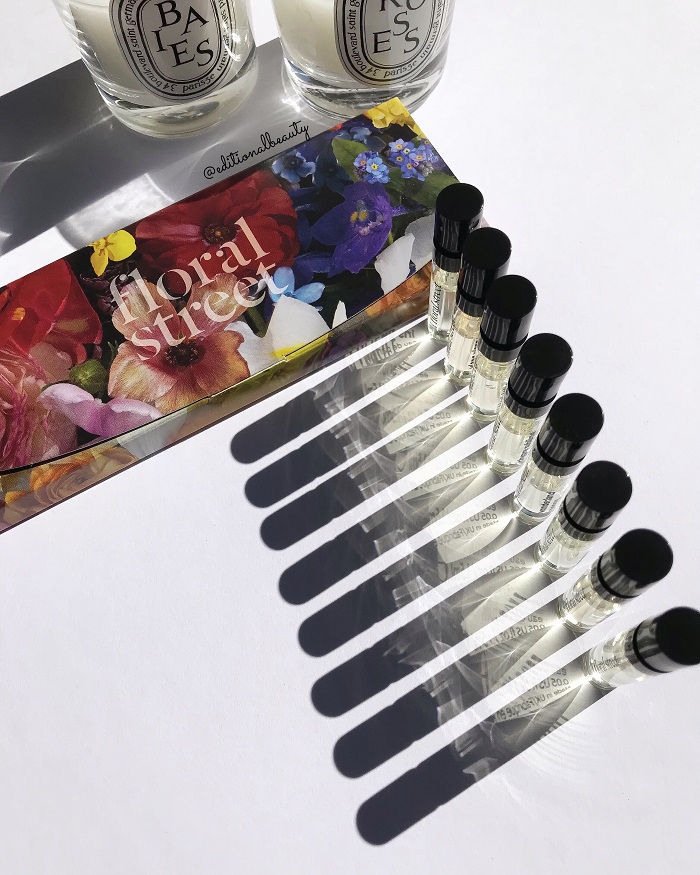 Wonderland Peony,Wild Vanilla Orchid:
I find both these perfumes to be open quite sweet. Then the sweetness is subdued by the woody notes. Hence, rather than feeling sickly sweet, the overall balance is of the fragrance is quite creamy and heady.
Iris Goddess, Chypre Sublime, Ylang Ylang Espresso, Black Lotus:
These are the more seductive and confident creations from the brand. Some are almost borderline explosive, especially Iris Goddess. Alight spray of this will do. If you love vibrant and bold scents, these are worth trying out.
London Poppy:
This one is a soft citrus floral. It has a fresh and bright feeling. Supposedly, it's inspired by the urban mood of London – on a day when the sun shines through the city.
Neon Rose:
Neon Rose is a very pretty, everyday fragrance. Perfect for a conservative work environment, or to match a laid back weekend outfit.
The Fragrance Notes:
Wonderland Peony: Sicilian lemon, pink berries, pink guava, violet, peony accord, raspberry flower, vanilla bean, pink cotton candy, cedarwood, vetiver
Wild Vanilla Orchid: cassis, lemon, vanilla blossom, bamboo, jasmine, vanilla beans, sandalwood, patchouli fraction, red orchid
Iris Goddess: lemon zest, chilli pepper, midnight violet,suede accord, Tuscan orris, carrot seed, patchouli fraction, black vanilla and liquid musks
Chypre Sublime: incense, pink pepper, wild geranium, damask rose absolute, midnight violets, patchouli, labdanum, benzoin and olibanum
Ylang Ylang Espresso: Tangerine, Sichuan pepper, fresh rose,jasmine, tiramisu accord, patchouli, ylang ylang, espresso beans, cocoa beans and guaicwood
Black Lotus: black cherry, red peppercorn, saffron centifolia rose, black violet accord, narcotic musk flower, patchouli fraction, labdanum, black Leather
London Poppy: Florida orange, Sicilian lemon, apricot blossom, jasmine sambac, neroli, sunflower accord, marine accord, cedarwood,Hinoki woods, black amber
Neon Rose: bergamot, cassis kir, apple blossom, sichuan pepper, cyclamen, juniper berry, jasmine egypt, angelica, white cedarwood, peach nectar, crisp amber
Shop The Post:
The Discovery Set retails for $23AUD at Mecca. The 10ml bottles retail for $38AUD and $50ml bottles are $109AUD. They are all part of the permanent range.
| Purchased |
Subscribe to the blog via email, unsubscribe anytime: