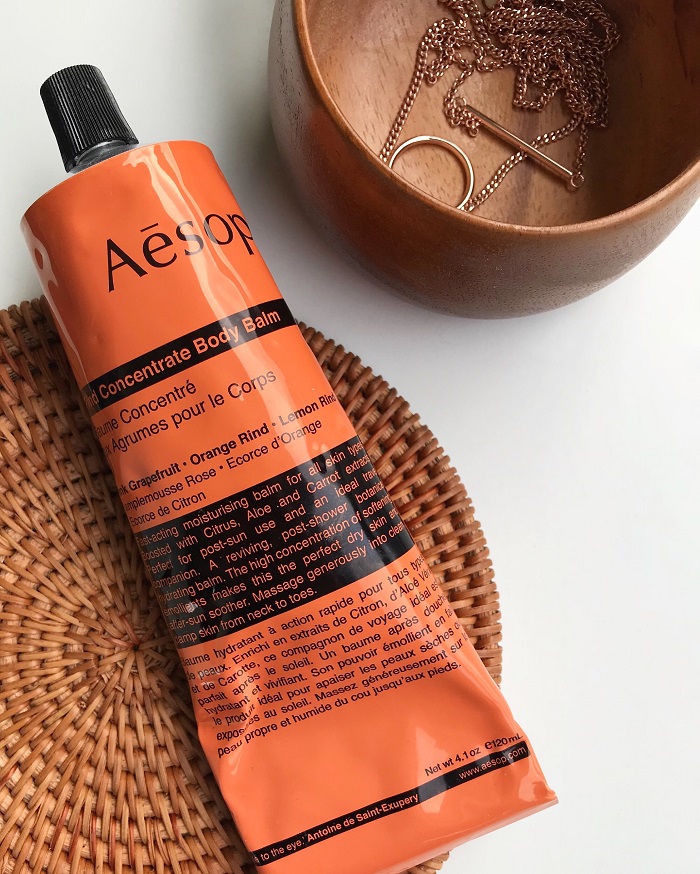 A lusciously scented body balm from Aesop.
The Review:
The coolness of Aesop Skincare is indisputable. Mention the brand to anyone familiar with skincare, it immediately conjures of images of a luxury spa or hotel. Such cool experience is not cheap. One bottle of handwash will set you back $40AUD. For now, my generic brand handwash will just have to do!
On the other hand, their wonderfully formulated creams and moisturisers are worth investing in. One of my favourite top shelf products is their Rind Concentrate Body Balm.
Technically formulated for the body, but this does an amazing job for my hands as well. The formula is hydrating and fast absorbing.Unlike many other hydrating formulas I've tried, this one does not feel heavy at all. The texture almost resembles luscious custard.
Due to the hydrating formula, you don't need much product to cover a large area. Hence one tube will last a long time.
The Rind Concentrate Body Balm is also suitable for seasons during the year– it's not too thick or heavy for the summer season, and still provides sufficient hydration and nourishment during the winter month.
It's packaged in a chic looking metal tube, with apothecary style typography at the front, describing details of the product.
To complete the experience, a delicious scent was selected for this body balm – the key notes are pink grapefruit, orange rind and lemon rind. It reminds me of a juicy and sweet summer citrus. The smell is equally tantalising and uplifting. One day, if Aesop were to bottle up that scent into a perfume, I would totally buy it.
Shop The Post:
| Purchased |
Subscribe to the blog via email, unsubscribe anytime: