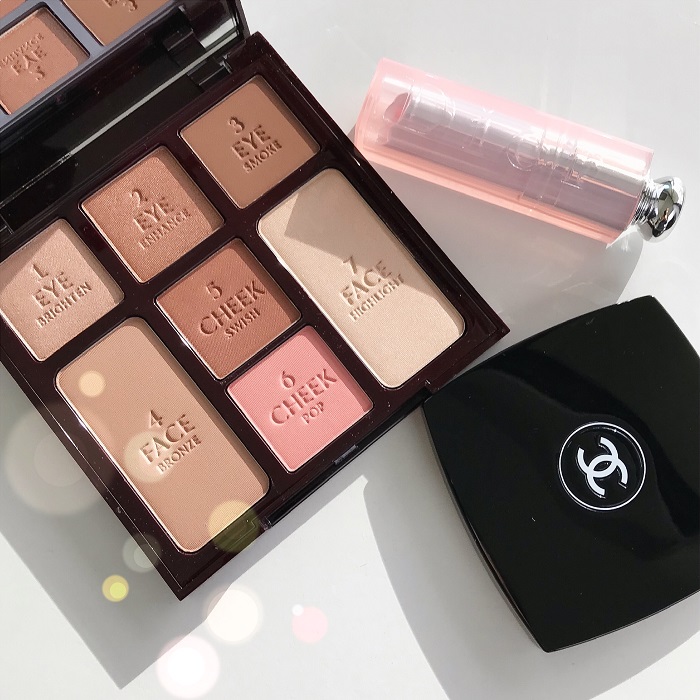 Get dreamy, radiant makeup looks from just one Charlotte Tilbury palette.
The Review:
If you've been reading this blog for a while, you would know that I have a lot of palettes. I would call The Beauty Glow Palette the most versatile out of my entire collection.
It consists of 3 eye shadows and 4 cheek shades. The 3 eyeshadows lean a little towards the warm side, without being too tanned or orange. Hence I would consider this to be quite flattering on a large range of skintones and complexions. It has deep matte brown shade, suitable for lining your eyes, or add some smokiness. A medium satin brown to enhance the shape/contour of your eyes, as well as warm shimmery champagne, which can be used as a sheer wash all over the lid.
The cheek shades consists a sheer bronzer, a pink blush, a medium contour shade and a light gold champagne highlighter. The star of the palette is definitely the bronzer. This is the same bronzer as the cult-favourite Film Star Bronze and Glow Palette (the fair/medium shade). I would say a warming powder is a more accurate description for this bronzer. It just add warmth and definition to my face whenever I wear it. A few swipes of this, I immediately look polish and put together, rather than tanned.
It's one of the few palettes I've come across where I'll regularly use all the shades, and can create a variety of different looks without dipping into another palette.
Being a Charlotte Tilbury product, you would expect high quality in terms of lasting powder and pigmentation. This one is no exception.
The 5 Minute Face
The tagline for this palette is "5 minute face on the go". It definitely stays true to that claim. The shades are so well curated, you can do you entire face in 5 minutes. All you need is masacra and lip color, and you are done!
The Shades:
Eye Brighten is a warm shimmery champagne
Eye Enhance is a medium satin brown
Eye Smoke is a deep matte brown
Face Bronze is a light bronze with satin finish
Cheek Swish is a deep brown contour shade
Cheek Pop is a sugar pink
Face Highlight is a light gold champagne (slightly lighter than the Eye Brighten shade)
The Swatches:
Here are the swatches: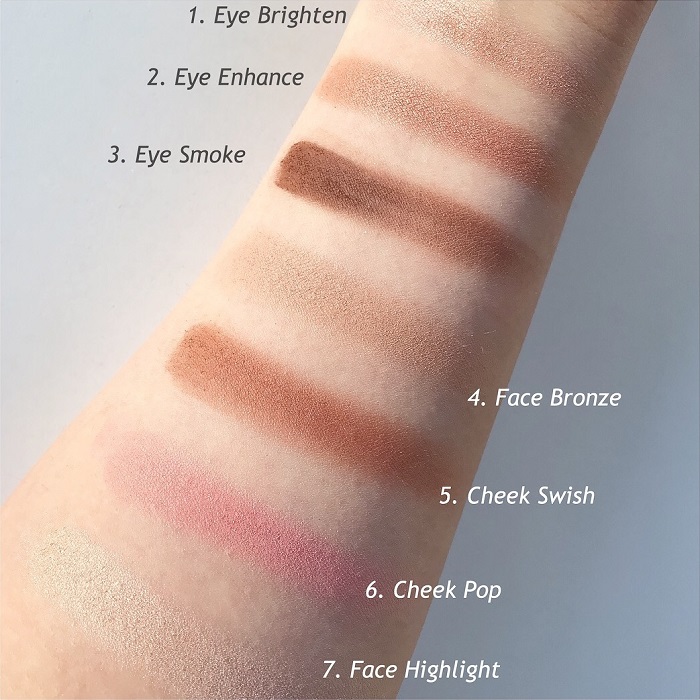 Shop The Post:
| Purchased |
Subscribe to the blog via email, unsubscribe anytime: