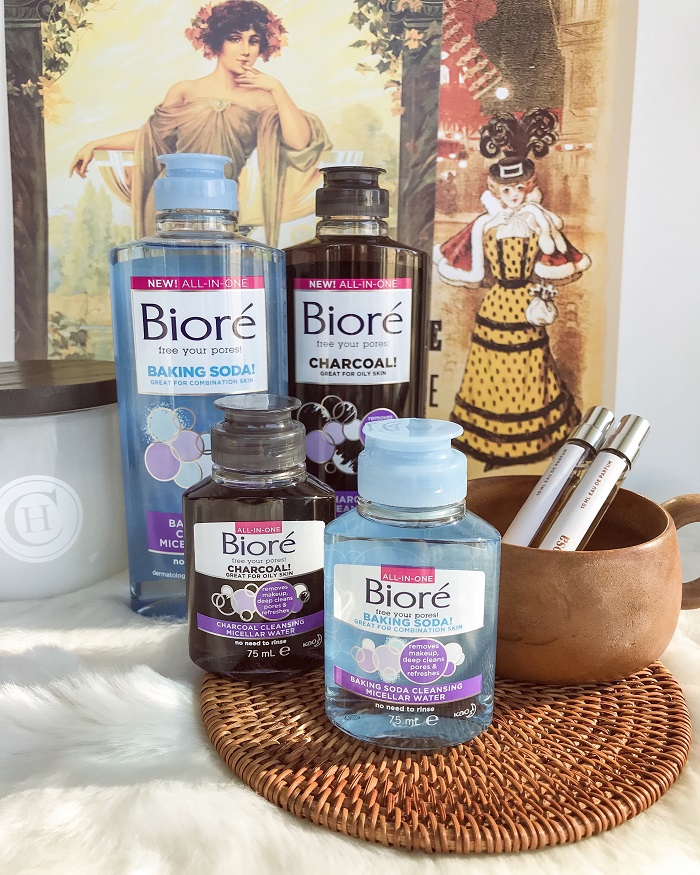 A no-rinse formula from Biore that cleanses the skin and removes makeup.
The buzz around micellar water doesn't seem to easing any time soon. I love it how every couple of years, a new product type gets invented, and you wonder how we lived without it all this time.
In case you are not familiar, micellar water is made up of micelles, which are tiny cleansing oil molecules, suspended in soft water. The molecules lift dirt and oil from the skin without drying the skin. When the first batch of micellar water became available, it was a huge hit backstage at fashion shows, because of its gentle cleansing properties.
Japanese skincare brand Biore recently launched their owner version of micellar water, which is infused with baking soda and charcoal.
The Review:
The blue bottle is the baking soda version, the black bottle is the charcoal version. Both come with in travel sized (75ml) and large sized (300ml) bottles.
Charcoal is known to draw out bacteria and dirt from the skin. There is definitely long term benefits from regularly use. When compared to plain micellar water from other brands, it cleanses a lot more effectively without tugging my skin.
Now onto the baking soda version. Baking soda is actually a mild exfoliate, and I love a double duty product. Also the formula leaves my skin feeling extra refreshed after using.
The baking soda version is designed for combo skin, and the charcoal version is more suited for oily skin.
Gentle and effective cleansing is always the first step in any night time skincare routine. I would highly recommend you check out these new additions from Biore!
(Also, in case you are wondering about the liquid color – they look blue and black in the packaging, but once you pour them out, they look clear.)
Shop The Post:
| Sample |
Subscribe to the blog via email, unsubscribe anytime: