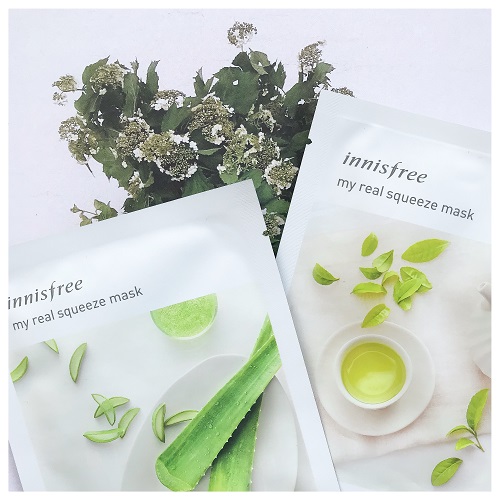 A range of refreshing sheetmasks, enriched with freshly squeezed ingredients.
The Review:
A fun little pick-me-up from Korean's No.1 skincare brand – innisfree!
The K-Beauty world domination continues, and beauty lovers around the globe simply cannot get enough!
I have been very lucky to have received some PR samples from innisfree and share my thoughts on their products. When I first received the masks, my first impression was "what's a squeeze mask"? So I found out that they are actually made from biodegradable Eucalyptus fibers, so it feels like a piece of delicate fabric, and soaked in ingredients extracted from a cold brew squeeze process, hence the name "My Real Squeeze".
The range comes in a very large variety – such as fig and cucumber, and includes some more exotic options like acai berry and Manuka honey.
There are 3 types of masks available – water, essence and cream. The green tea mask is a water-type mask, and aloe is an essence-type mask.
They retails for only $2 AUD! Yep, that's right! So there is no excuse to not trying these fun masks.
The Formula & Application:
The masks are individually packed. You just tear one open, unfold the mask and pop on your face. It adheres to the skin quite well and doesn't really slide around too much. So you can walk around the house, doing your usual activities while masking. You can leave it on for 10-20 mins.
The masks are drenched in serum! So you are definitely getting your money's worth for this product. Just be careful when opening up the sachet, not to drip any of the serum on the floor (trust me, I'm speaking from experience here).
The green tea real squeeze mask is a water-type mask. It's designed to boost hydration. It has a very cooling effect, so works wonders when it comes to de-puffing as well. This will also be super refreshing to use during the hot summer time. After use, my skin definitely looks more hydrated and moisturised.
The aloe real squeeze mask is an essence-type mask. The serum is not as watery as a water-type mask. It's designed to sooth and calm the skin. It also has a cooling effect, similar to the green tea mask. I think this one suits my skin better, as it looks noticeably more dewy and glowy after use, my fine lines also appear to be temporarily plumped up.
Tip: for extra cooling effect, try pop it in the fridge for a few hours prior to use.
Shop The Post:
| Sample |
Subscribe to the blog via email, unsubscribe anytime: