A regenerating anti-aging cream from Unichi Wellness.
The Review:
One of the hero products from Unichi Wellness, infusing science into their ingredients and formulation, to help you protect, repair and regenerate!
I was very lucky to have received a PR sample of the Forty Fathom Skin Regenerator Cream from Unichi Wellness, and I was quite impressed. You can read my detailed review on the cream below, but first I wanted to share a few facts about its parent company Unichi Wellness. It's a boutique Australian company specialising in health supplements and skincare. Their product range is not huge, but it's usually an indication that they put effort and time into developing every product, ensure the formulation is perfect before releasing into the market. However, I feel they have reached the stage of really stepping up in their marketing, by recently appointing Stephanie Rice (triple Olympic Gold Medallist in case you didn't know) as their brand ambassador.
The Formula & Application:
The cream is housed in a beige white tub, comes with a little spatula to scoop up the product. The key ingredients of the cream are sourced from wild brown seaweed found in the Pacific Ocean. Specifically, Unichi extracts Fucoidan from the seaweed, which helps to regenerate damaged cells. There are details of clinical studies on Fucoidan, which you can find on the Unichi website. Personally I'm really surprised that seaweed has yet to become the "It" ingredient in the skincare market, perhaps that would change in the coming years.
I tested this for my morning and evening routine. It has a mild sweet oat scent, but disappears very quickly after application. The texture is very creamy, but not heavy at all. It has a semi-matte finish. I can definitely see my skin texture becoming more plump and developing a more even skintone.
For reference, I have combination skin, with oily T-zone and normal cheeks, and experience occasional dry patches.
Also, if product origin is of importance to you – the cream is proudly Australian made!
The Texture: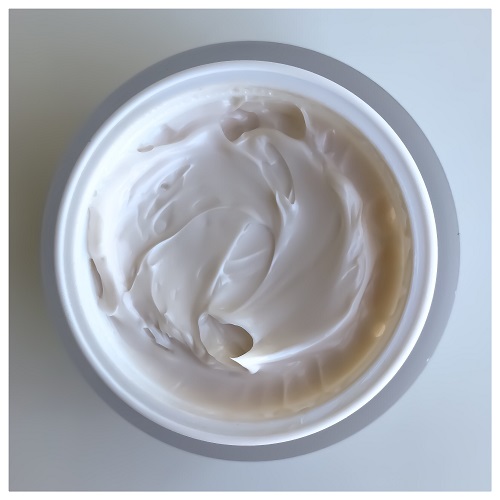 Shop The Post:

| Sample |
Subscribe to the blog via email, unsubscribe anytime: